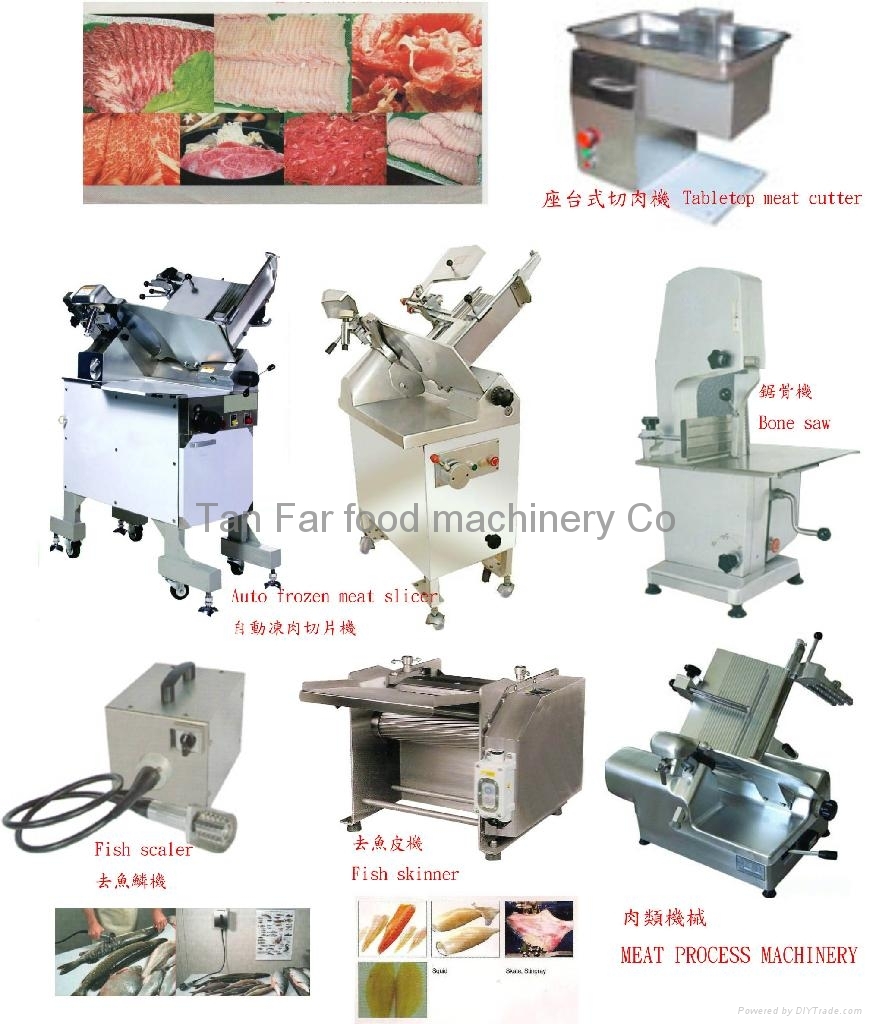 Meat processing machinery

auto slicer,meat mincer,meat chopper,bone cutter,bone saw,fish skinner,fish filliting machine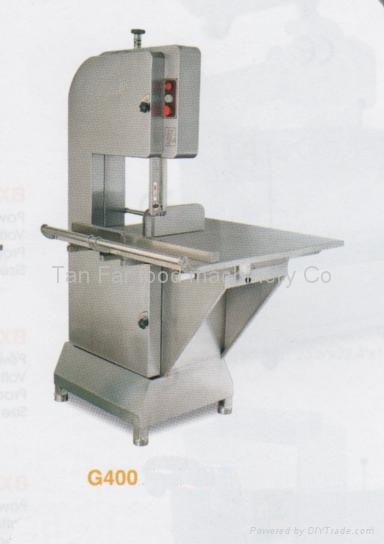 G 400 Bone saw suitable the food factory,fast food shop,frozen meat wholeseller and supermarket etc...
FEATURE: Put the bones or meat to be cut between the push slab and the saw belt.Lift the meat feeding handle by the left hand and push the cut matreal to the stop plate by the left hand to feed the material ahead until it is cut off.
The machine table can move,it can saving the time.
VoltaGE:380v/220v (3ph)
POWER:1.5KW
BELT WHEEL DIA:400MM
BLADE SPEED:15M/S
TABLE SIZE:890*900mm
CUTTING THICKNESS:30-350MM
WEIGHT:175KGS
DIMENSION:980*1160*1800MM
machine moive:

http://www.youtube.com/watch?v=9bRU7tHL2uM
350A Auto frozen meat slicer suitable the frozen meat and sea food.
The machine have two indepand of powerfull Toshiba motor.
The machine made of stainless steel and alminum.
ZICO knife
machine data:
knife dia: 363mm(15")
Power:750W* 2 motor
Voltage:380-415V (3PH) or 220V(3PH)
machine weight:256KG
cutting thickness:0-20mm
capacity:40-60 pcs/min(can adjust the speed)


machine moive:

http://www.youtube.com/watch?v=x0fhUrSj7Z4
Model-TF-300D Tan Far multi-purpose slicer is a product elaborates in our company for friends all over the world. It is a new model that absorbed the advantages of many congener products made at home and overseas, and developed and researched independently by Tan Far Engineering & Development Co., Ltd. It adopted gear wheel, worm wheel and worm transmission, hence, it operates smoothly and effectively, and the slices are in equality thickness. The whole machine is made of food grade special aluminium and magnesium alloy, as well as stainless steel cast. Polishing surface, anode oxidation, wear well, innocuity, erosionproof, safe and healthy. It is suitable for cutting lumpish food such as pig, mutton, beef, fish,pineapple and various vegetables, etc.

Blade diameter:300mm(12 inch)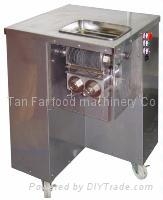 QSJ Meat Cutter-with Cross Knives Use: for stripping and slicing meat Thickness of slicing: 5-8mm Weight: 76kg Size of feeder: 145cm Motor Power: 550W*2 Input Power: 555W*2 Voltage: 220V 110V Productivity: 500kg/h 以上 Dimension: 510*510*780mm

machine moive:

http://www.youtube.com/watch?v=yt3PQCwp00Q
Automatic hamburger chop forming machine Automatic hamburger forming machine suit restaurant,fast-food shop,food factory etc..... The machine made of stainless steel and easy operate.This machine can made a vairety of hamburger chops.High output production and saving labour. Anotherwise,our company pro Technical data: Production:2100 pcs/h Volume of feed bin:32L/time Voltage:220V/380V/110V/415V Power:0.37kw Machine weight:100Kgs Diemension:715*600*1400mm


machine moive:

http://www.youtube.com/watch?v=QyEv7CTuAbs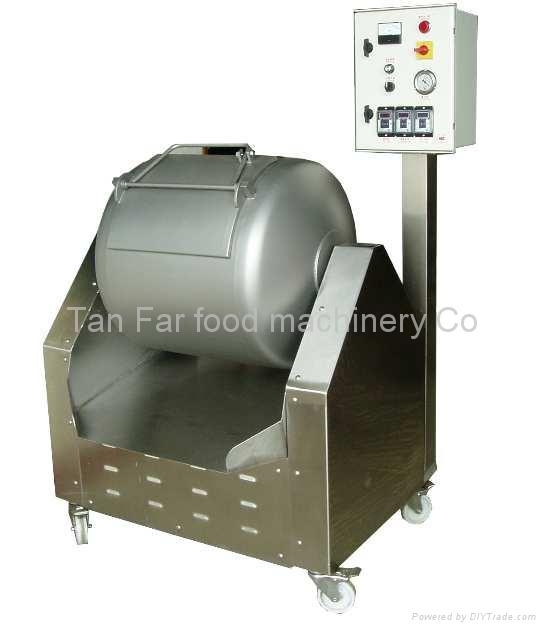 Vacuum meat mixer suitable the restaurant,meat factory,susage ham factory etc...
The machine made of stainless steel,and vacuum pump come from europe busch.
feature:This meat mixer specailize for meat mixing with vacuum process,suitable the chicken wing,pork,beef mixture.
EO-09-150 150L/time
EO-09-300 300L/time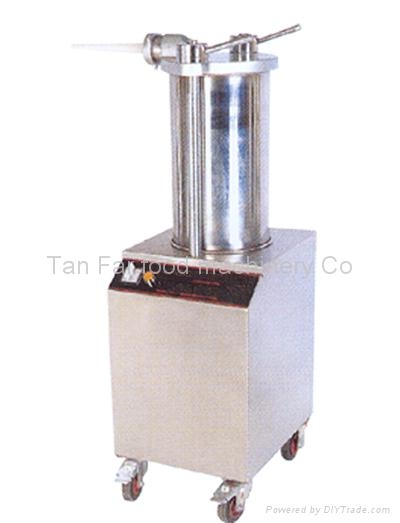 260Rapid Sausage Filler is ideal for meat processing enterprises and individual business parties to process sausage, banger and ham etc. It possesses the following features: 1.Stainless steel body looks luxury and elegant, and also ensures that the food processed is clean. 2.Bowl with big capacity. Hydraulic system lifting sausage up and down. Low noise and high efficiency. 3.Imported and domestic branded electric appliances and hydraulic components ensure good quality and long service life. 4.Conversion switch and foot-switch offer safer operation. 5.Mobile body ensures greater applicability. 6.Side-hang hydraulic bag ensures easy loading, unloading and maintenance.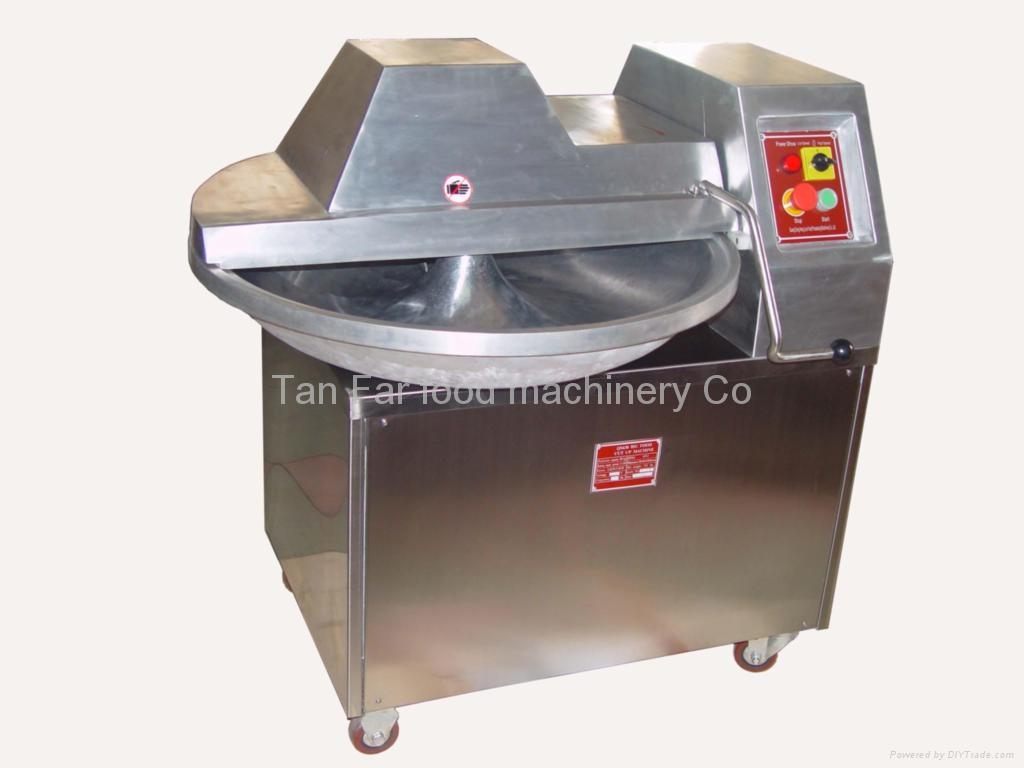 S30L bowl cutter suitable the meat process and vegetable process,it can chopping the meat and vegetable,such as beef,pork,fish,onion,tomato,garlic etc....
Suitable the food factory,meat factory,vegetable factory,etc....
The bowl cutter made of stainless steel and aliminum.
speed adjustment:High or Low
bowl capacity:30L /time


machine moive:

http://www.youtube.com/watch?v=8dfwsQKYcJw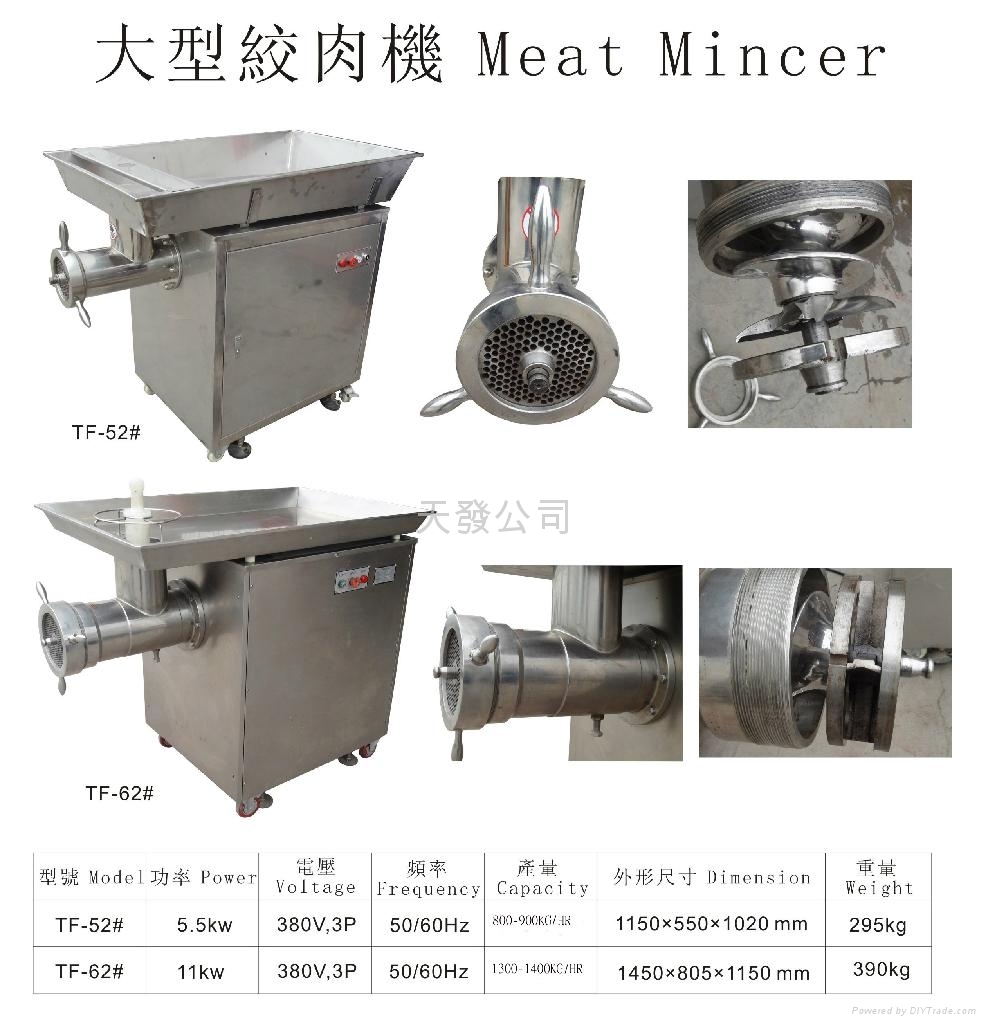 C42 meat mincer
Suitbale the meat factory,restaurant,food factory etc.....
capacity:650KG/hr
voltage:380V(3ph)/220V(3PH)
TF-350 MEAT DICE CUTTER



Main parameter:
Capacity:300-400kg/h,
Tank size:84X84X350mm
,Barrier size:5.6.7.8.9.11.13.16.20.27 ,
Power supply:380V-415V 3p ,
Power:1.3KW,
Weight:500Kg ,
Dimensions:1350X700X1000mm

SUITABLE THE FOOD FACTORY,MEAT WHOLESELLER

machine moive:

http://www.youtube.com/watch?v=DpOC2S1kpcU

QX series meat cutting machine

Suitbale to cutting the freash meat.

It can change a vairety of blade cutter

blade cutting size:3mm to 20mm(depand the client choosen)

voltage:220V/110V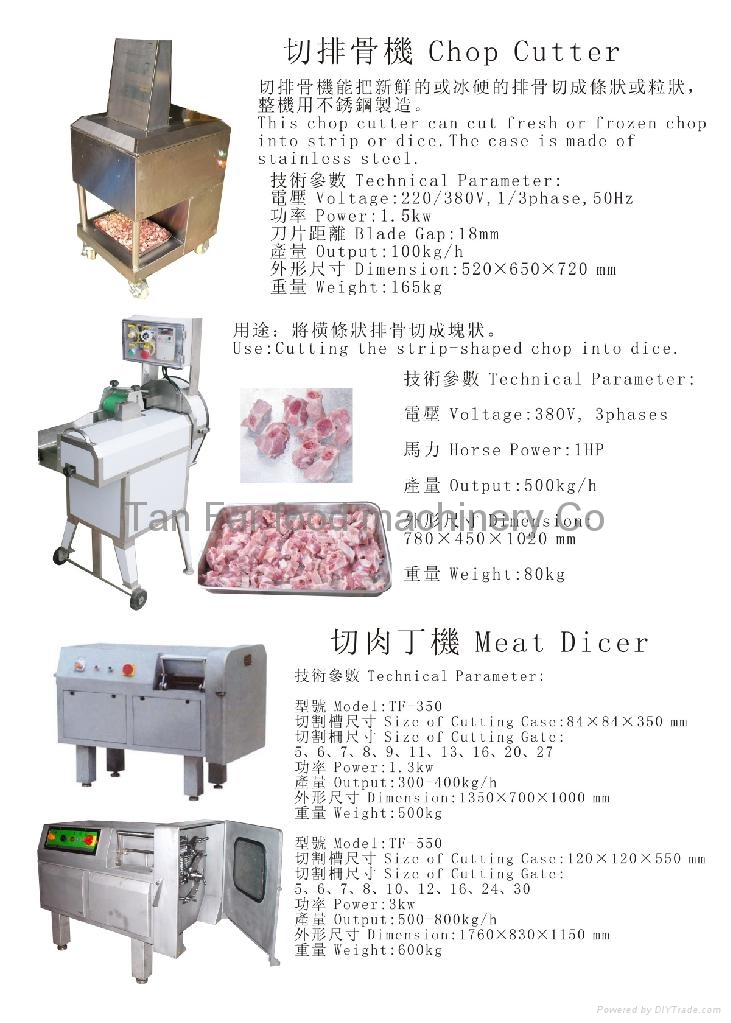 Auto stuff meat ball forming machine


Suitable for stuff meat ball or fish ball

The machine made of stainless steel

voltage:220V(3ph) or 380V(3PH)


moive:

http://www.youtube.com/watch?v=h3mhM43opzs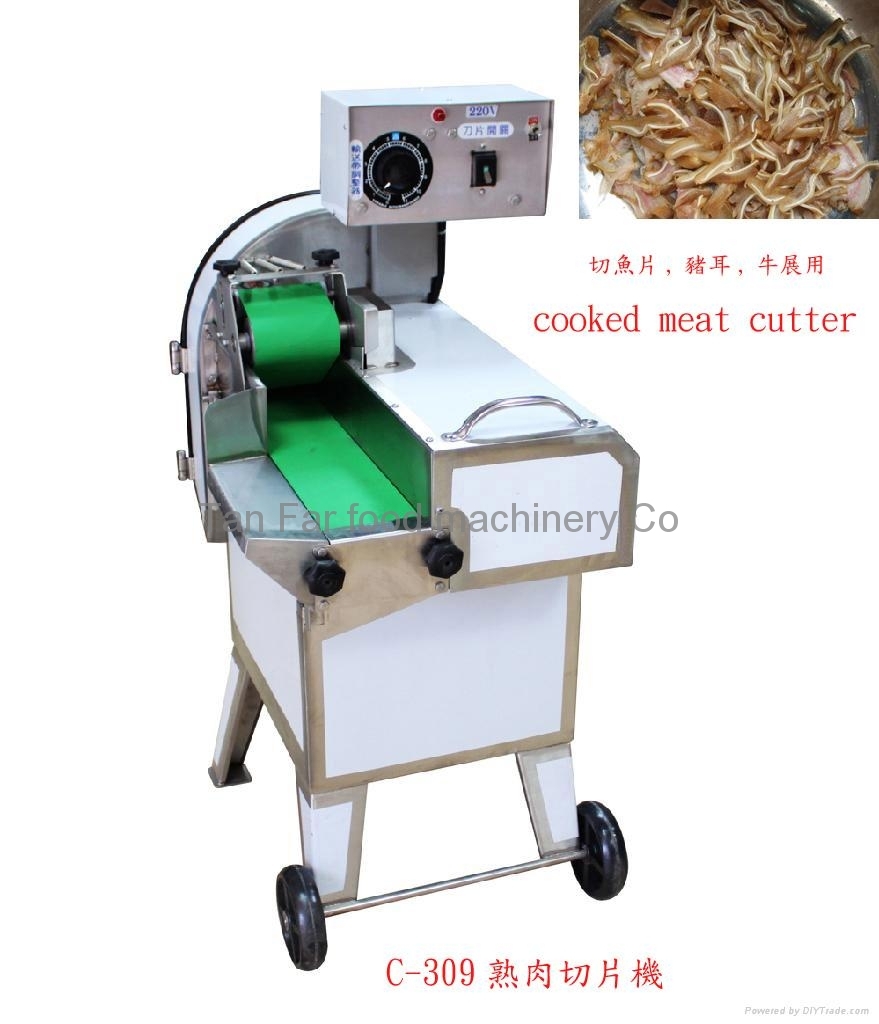 C-309 Cooked meat cutting machine

Suitable the japanese meat slice,cooked beef,lamp and fish to use.

capacity:400-500 kg per hr

weight:65kg
Edit Title
Click Here Edit Paragraph Content
Edit Title
Click Here Edit Paragraph Content
Edit Title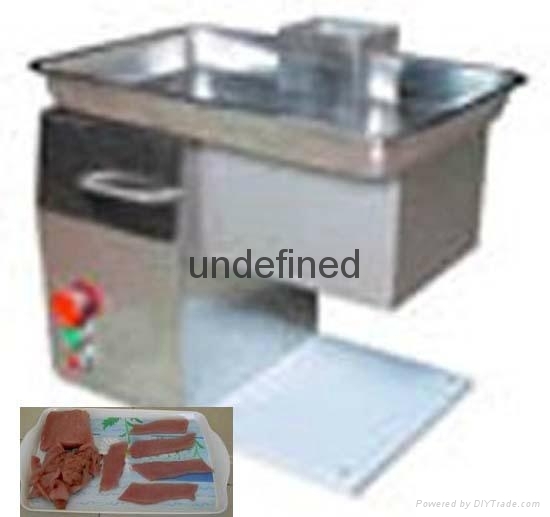 Click Here Edit Paragraph Content
Click Here Edit Paragraph Content